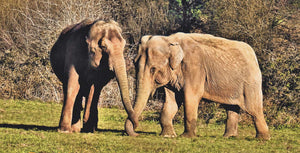 FROM THE TRACK TO THE SANCTUARY
The Elephant Haven association is a non-profit sanctuary whose mission is to offer a second life to elephants who have only known life in zoos or circuses. Often without reference, the rescued animals are placed in a secure natural space and share their daily life with other of their kind.

The teams responsible for caring for the residents do their best to resocialize the elephants, while respecting their rhythms and their character.
DELHI & GANDHI
Delhi
Reckless and quite active, Delhi loves spending time outdoors, whether it's sunny, windy or raining. She adapts easily to changes and respects the calmer rhythm of her life partner, Gandhi.

Gandhi
More sensitive, Gandhi likes to take his time, savor delicious snacks, and wait for the sun's rays to walk around with or without Delhi.
HOW DOES COG SUPPORT VOLUNTEERS AND PENSIONERS?
The partnership between Elephant Haven and COG was born at the end of 2022, following the launch of our Topsy plant sneaker model, created in homage to the elephant of the same name, who unfortunately experienced a life of mistreatment in circuses, then was executed afterwards. having defended herself from yet another act of brutality.
Discover his story here (at the bottom of the page).
The actions carried out by the Elephant Haven association perfectly reflect the philosophy supported by our brand , we could not miss the opportunity to support them by donating to their team of volunteers a share of the profits made on the sales of our model Topsy.
Thus, on each pair of Topsy sold, €5 is donated to Elephant Haven .
The COG team joins the Elephant Haven team to thank you for your solidarity-based purchases!
HOW TO SUPPORT THE ASSOCIATION?
Elephant Haven is an association that survives thanks to donations. Your generosity can support the work of the sanctuary teams, and cover part of the care and feeding of the residents.