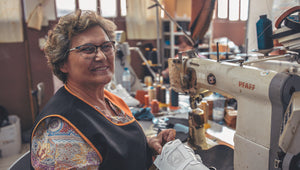 Vegan shoes, made with respect for the women and men who make them, our priority.
"
At the workshop, we form a big family. Work requires concentration, but doing it surrounded by people you love makes the task much lighter and more distracting.
-Felismina
SNEAKERS PRODUCED WITH RESPECT FOR WORKERS
"Creating vegan shoes, in a framework that respects the people who make them" is the idea that motivated the creation of COG ; we just had to find where to do it. In addition to its excellent reputation in the shoemaking industry, we turned to Porto in Portugal to find our workshops because the region is easily accessible (less than 1,200 km as the crow flies from Lyon). This allows us to easily go on site to appreciate the meticulous work of local artisans, and also to see for ourselves that our shoes are assembled with consideration for factory employees and respect for their rights. So we assure you, your sneakers and street shoes are vegan , and the team that makes them operates in a healthy, secure environment, while receiving fair remuneration .
EMPLOYEES WORKING IN GOOD CONDITIONS
"Work is health"… At least, that's what Henri Salvador claimed; we prefer " Healthy Work " , and if we can ensure that the manufacturing of your COG shoes does not harm the health of the people working at our suppliers, nor that of the employees of our partner workshops, we will not don't deprive yourself of it, and we're delighted. That's good, the little extra Made In COG: no material of animal origin in our women's and men's collections, which prevents workers from handling chemical and toxic products such as chrome, a material mainly used in the leather tanning process , which exposes workers to serious illnesses with often irreversible damage. At COG we say to ourselves: " We don't want it for ourselves, why make it available to others? "
KNOW-HOW AND EXPERIENCE
Our shoes are made in a family home founded in 1957 and today with multi-generational know-how.
The reputation of Portuguese craftsmanship is well established, and each of our visits to the workshop to follow the progress of production is an opportunity to discover more about the technical richness and mastery of the artisans of the House. Cutting, sewing, gluing, each employee has their own job and area of ​​specialization to bring our women's / men's models to life.
Quality work carried out within a pleasant microcosm , with the satisfaction of a job well done.
HAND IN HAND WITH OUR EMPLOYEES
OUR HUMAN ETHICS IN 4 POINTS
The framework
A secure family workshop where each worker is considered and works with dignity.
The experience
The know-how passed down from a House with more than 60 years of experience, for exceptional shoes.
The sharing
We owe this adventure to you, and we want to live it with you by sharing as many details as possible, in complete transparency .