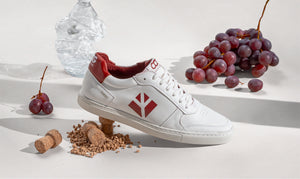 RECYCLED PLANT AND SYNTHETIC MATERIALS.
At COG, we have set ourselves the objective of participating in the development of sustainable, responsible fashion that respects life .
This is why all our shoes are vegan , made in a human setting , using an ecological approach .
Also the materials that make up our models are not only 100% vegan and come from European suppliers, but we also try as much as possible to use components of recycled plant origin , such as grape marc, cork, organic cotton, or recycled rubber.
In order to ensure durability and resistance to our models, we also use recycled synthetic plastics and microfibers , almost entirely from the circular economy, and certified OEKO TEX 100 : plastic bottles recovered at sea and revalorized, PET, polyester, water-based polyurethane.
For us, producing the perfect shoe does not mean promising a zero-waste shoe of an illusory design, but offering the promise of full involvement in producing ecological shoes, the most in line with the definition. of what ethical and responsible fashion can be.
Zoom in on the ecological materials that make up our shoes.
OUR ECOLOGICAL, VEGAN AND RECYCLED MATERIALS
Simulated grapes
Grapes in my shoes, what does that mean?
This plant-based alternative made in Italy is an innovative, ecological and vegan solution.
This material is notably used for the upper of our Topsy and Wallace plant-based sneakers, and that of our Laïka women's Chelsea boot, as well as that of our Aïko women's Richelieu.
It consists of 26% wine waste (grape pomace), 54% recycled PET and vegetable oils , and 20% water-based PU . Its backing is made of 100% recycled polyester .
Based on the recycling of waste , this material limits waste, and allows us to obtain a result similar to leather through its grained texture, its resistance, and its impermeability; and this, without animal suffering!
Recycled plastic bottles
To produce an ecological shoe, you must surround yourself with suppliers involved in the protection of nature, with the capacity to produce sustainable materials , and with eco-virtuous design . Therefore, our team turned to two Spanish and Portuguese companies which create coverings from bottles and other plastics recovered from the sea , in order to give them a second life .
Head to the Mediterranean Sea, where floating plastic waste is collected and then reused ; allowing our suppliers to design and weave the laces and interior coverings that will make up our shoes.
Anti-perspirant and anti-bacterial, in addition to being eco-responsible , these materials allow you to stay dry all day long!
Recycled cork
Nature is well made, we might as well use its exceptional qualities to our advantage.
The insoles (insoles) of our ecological sneakers are made from 30 to 90% recycled cork (depending on the sneaker model) . A material directly from the bark of cork oak growing in Portugal, which in addition to ensuring flexibility and breathability to our soles, is also an ecological solution due to its natural qualities.
Recycled rubber
Our outsoles are made of rubber, 30% to 40% of which is recycled , depending on the model.
Unused material scraps are remelted, then reintegrated into the rubber during the molding phase of our soles, in order to reduce the use of virgin material .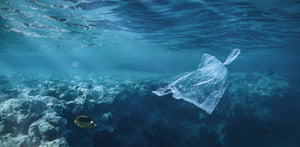 Everything about our eco-responsible shoes